Blog Archives
It's that time of year again – the TeachersPayTeachers Cyber Monday Sale. This year it will be even better, as it is actually Monday AND Tuesday. That's two days to stock up on some essentials for your classroom.
Teachers Pay Teachers is offering 10% off of all purchases – just use the code CMT12. In addition to that, many store owners (myself included) are also putting their items on sale for those two days. All items in my TPT Store will be on sale, at 20% off. That's 28% off overall.
You really don't want to miss out. Head over to TeachersPayTeachers and join the frenzy! People have already started filling their carts and crossing items off of their wish lists.
As if that wasn't enough, The 3am Teacher has set up a link-up for your viewing pleasure. Hop around to everyone's blog – see what they're offering in the way of sales and score yourself some deals. Thanks again for setting this up, Michelle!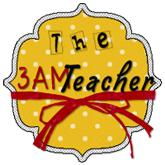 Enough talk – let's get to the good stuff! So many savings…where to start? 
This is one of my newest products. It's for grades 5-8 and students work to create either a math themed game, poster or rap. Rubrics are included and students really enjoy this math project. It's also generic, so that it can be used with multiple grade levels and math concepts.
My Math Menus resource has been very popular. It's a great way to differentiate math in your classroom and again, is generic enough that you can use it with various concepts throughout the year. Multiple menus are included, so that you can adjust to your own needs.
In my TPT Store, I also have Language Arts
 and Health resources. I teach Math, LA, Social Studies and Health to grade 7 students and so I have a variety!
I have lots of other resources on everything from Making Connections in Language Arts, to Transformational Geometry, Fractions, Classroom Management, Integers, Rounding, Probability, Independent Reading, Vocabulary and lots more! I have lots of great freebies too – one of my newest ones is on Word Choice and it's been very well received! I'm also busy trying to get a holiday writing lesson posted – and I hope to have it up in time for the big sale!
Well, that's it for me! Happy blog hopping and have that cart ready for check-out on Cyber Monday or Tuesday:)